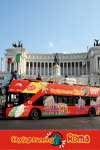 Rome Hop-On Hop-Off
お値段 4077 ¥
Exploring Rome has never been so easy and exciting! Get on the red CitySightseeing Hop-On Hop-Off bus and admire this wonderful city from the open top!

Highlights:
- Explore Rome at your own pace
- Hop on and off as you like
- Choose between 24, 48 or 72-hour tickets
- See all of the major highlights in Rome
- Visit Colosseum, Vatican City & the Trevi Fountain
- Enjoy the audio guide onboard
- Download the Rome Sightseeing Experience app

Explore Rome from a Hop-On Hop-Off Bus
Onboard the Hop-On Hop-Off bus, you'll find an interesting commentary which will provide you with information about everything around you.

Bus Line A gives you the opportunity to explore the biggest sights in Rome, like the Colosseum, the Vatican City and the Trevi Fountain. If you wish to discover something more, get off whenever you want and as many times as you want and continue on foot.

You can download the app Rome Sightseeing Experience onboard the bus, thanks to the Wi-Fi service, and listen to it when you want without the necessity of an internet connection.

How do I get my tickets?
Shortly after your booking is complete your e-ticket will be sent directly to your email, just print it out and bring it with you on your tour.

How does it work?
Just bring your e-ticket to the first bus you want to take and hop on!

How long is my ticket valid?
Your tickets are valid for either 24, 48 or 72 hours. You can redeem your ticket up to 5 days after the tour date you have chosen.

Where are the bus stops?
There are 8 stops where you can hop on and off:
Stop 1: Terminal A: Termini-Marsala (via Marsala, 7)
Stop 1: Terminal B: Largo Di Villa Peretti (Largo di Villa Peretti, 1)
Stop 1: Terminal C: Piazza dei Cinquecento
Stop 2: Santa Maria Maggiore
Stop 3: Colosseo (Via Di San Gregorio)
Stop 4: Circo Massimo (Piazzale Ugo la Malfa)
Stop 5: Piazza Venezia (Via di Teatro Marcello, 12)
Stop 6: Vaticano (Via della Conciliazione, 4)
Stop 7: Fontana di Trevi (Via del Tritone, 59)
Stop 7B: Piazza di Spagna
Stop 8: Piazza Barberini (Via Barberini, 2)
How long are the tours?
The tours last 100 minutes per tour.

How often do the buses run?
The buses run every 15-20 minutes depending on the season.

Are there children's tickets available?
Children's tickets are available for children between age 5-15. Children under age 5 are free when accompanied by a paying adult.

Rome Hop-On Hop-Off 情報
Rome Hop-On Hop-Off
Bring your e-ticket with you to the bus and start your tour!

情報
Rome Hop-On Hop-Off
The buses start running at 9 AM until 5 PM (from October to April) and 7 PM (June to September).

方向
方向
See all of the stop on the map below.



地図を見る