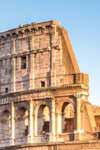 Vatican Tour & Colosseum w. skip the line
お値段 12339 ¥
This 2-in-1 ticket and tour experience combine one of our most popular Vatican tours with a skip-the-line Colosseum ticket. The ticket also grants access to the Roman Forum and Palatine Hill.

Highlights:
- Skip the line to the Vatican & Colosseum
- Experience two of Rom's most amazing attractions
- Admire the Vatican from inside on your tour
- See the Sistine Chapel
- Visit St. Peter's Basilica
- See the underground tombs of former Popes - Vatacombs
- Experience the Colosseum on your own
- Walk around Roman Forum and Palatine Hill
Skip the Line to the Vatican & Colosseum
Skip all Vatican lines with priority access and see all the major artistic and architectural highlights inside the Vatican City.

Our entire Vatican tour covers the Vatican Museums, Sistine Chapel, Vatacombs where you'll see the underground tombs of former Popes, and St. Peter's Basilica in about 3 hours.

You can read more about the tour itinerary for your Vatican tour here: Vatican Museums, Vatacombs and St. Peter's.
After your tour of the Vatican, you'll get your skip the line ticket to Colosseum and directions about how to reach the Colosseum from the Vatican City.
When you arrive at the Colosseum there will be two lines at the entrance, a very long line for people without tickets, and a short line or no line at all for you to walk straight into the Flavian Amphitheatre.

We recommend that you spend between two and three hours in the Colosseum, Roman Forum, and Palatine Hill archaeological areas. You should keep in mind that each site operates a strict no re-entry policy.
How do I get my tickets?
Shortly after your booking is complete your e-ticket will be sent directly to your email, just print it out and bring it on your tour.
Where does the tour begin?
The tour starts at the When in Rome Tours office. The address will be on your e-ticket. Please be there 30 minutes before the tour starts.

Where does the tour end?
The guided tour ends at St. Peter's Basilica, where you'll be given directions to the Colosseum.

How long does the tour last?
The guided tour of the Vatican lasts approx. 3 hours.

Is Necropolis a part of the tour?
No, this tour does not include Necropolis as only the Vatican administer tours to this area.

When can I visit the Colosseum?
Your entrance ticket to the Colosseum is valid from 2 PM.

Is there a dress code?
Yes, entrance into religious sites requires a strict dress code. Knees and shoulders must be covered for both men and women. When in Rome Tours and Ticmate cannot be held responsible for refused entry due to improper dress.
Are there children's tickets?
Yes, children's tickets are available for children from age 0-17.

Important information:
- You will skip all official queues, and they can be very long, up to several hours. However, on certain days like bank holidays, weekends and religious holidays there might be some lines. This cannot be avoided, but these lines will be far shorter than the public ones.
- Cancellations can happen at very short notice. In this case, we will contact you and offer you alternative tour dates or get you a full refund.
- Due to security, we strongly recommend that you do not bring any large bags or packages.
- This tour is conducted as a walking tour, as no vehicles are allowed inside the Vatican, so please wear appropriate footwear.
Vatican Tour & Colosseum w. skip the line 情報
Vatican Tour & Colosseum w. skip the line
Meet your guide at the When in Rome Tours office at:
Via Sebastiano Veniero 21
000192 Rome
情報
Vatican Tour & Colosseum w. skip the line
The tour operates daily (except Sunday) at 8 AM, 11 AM, 1 PM & 3 PM (8:45 AM & 1:30 PM during winter)

Your entrance ticket to Colosseum is valid from 2 PM.
方向
方向
The closest metro stop is Ottaviano.



地図を見る