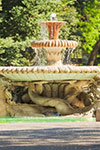 Guided tour at the Borghese Gallery
お値段 8565 ¥
Enjoy a guided tour at one of Rome's richest and most interesting villas, the Borghese Gallery. The gallery houses a vast and diverse collection of sculptures and paintings produced by masters such as Bernini, Canova, Caravaggio and Titian.

Highlights:
- Skip the line to the Borghese Gallery
- Enjoy a guided tour around the famous gallery and gardens
- See more of the Borghese Gallery and Gardens than on other tours
- Expore the incredibly peaceful and serene Borghese Gallery
- Enjoy a small tour group of max 20 people
Explore the Borghese Gallery & Gardens

Experience a rare treat as you wander the vast, luxurous rooms of Cardinal Borghese's villa, viewing these groundbreaking masterpieces in their original setting – just as the artists intended us to see them.
With his eye for beauty, the Cardinal collected an impressive collection, from a number of Caravaggio's earlier pieces, to Gian Lorenzo Bernini's 'Apollo & Daphne, Canova's shocking 'Pauline Bonaparte' and Raphael's 'The Deposition'.
With your expert, English-speaking guide on hand to walk you through the collection, you'll get the most from your visit.
Set in its own vast gardens near the center of Rome, Villa Borghese is worth a visit for it's architecture and setting as much as its artwork. You'll take advantage of this on the second half of your tour when your guide leads you into the magical Villa Borghese Gardens. With its manicured lawns, fountains, lakes and monuments, this truly is a rare (and central!) escape from the bustle of the city.
The tour ends with a breathtaking view from the top of the Pincio Terrace.
How do I get my tickets?
Shortly after your booking is complete your e-ticket will be sent directly to your email, just print it out and bring it on your tour.
Where does the tour begin?
The tour starts in Piazzale del Museo Borghese, in front of the Borghese Gallery Main Entrance (Villa Borghese entrance on via Pinciana). Please be there 15 minutes before the tour starts.
Where does the tour end?
The tour ends at the Pincio Terrace.
How long does the tour last?
The tour lasts 3 hours.

What language is the tour operated in?
The tour is operated in English.
Are there children's tickets?
Yes, children's tickets are available for children between age 4-14. Children betwwen age 0-3 are free when accompanied by a paying adult.

Important information:
- This tour involves a fair amount of walking; comfortable shoes are recommended.
Guided tour at the Borghese Gallery 情報
Guided tour at the Borghese Gallery
Meet your guide in front of the Borghese Gallery main entrance.

情報
Guided tour at the Borghese Gallery
The tour departs Thursday, Saturday & Sunday at 9 AM and Tuesday-Sunday at 3 PM.
方向
方向
See where The Borghese Gallery and Gardens are located on the map below.



地図を見る